If you follow me on Twitter (@lovelydalls) you know that I've been going back and forth with Clinique. I used their Superfit foundation religiously for over 8 years. When the colors I needed started to always be "out of stock" I feared for the worst and within 3 months found out they were discontinuing Superfit. This was a few years ago. Since then I have struggled to find something I loved as much and I have found several foundations that I really like (Healthy Skin, ColorStay, Lasting Finish). However, I have never found one with the dewy glow that Superfit provided.
I've done a lot of research online and decided to try the L'Oreal True Match Lumi Healthy Luminous foundation. It claims to have 3 ingredients that actually improve your skin over time with continued use, antioxidants, Vitamins C and E and Liquid Light technology for an instant luminious glow. It also has an SPF of 20.
I was curious. I've never used a L'Oreal foundation before. I purchased mine in the shade Shell Beige. They offer 3 different lines of shades, warm, neutral or cool with15 shades to choose from.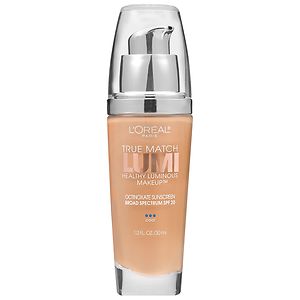 The packaging is awesome. It's a pump foundation with a lid. SO CLEAN. I apply with a foundation wedge, I find that dewier foundations get the best finish when applied this way on my skin. I am seriously impressed. It is 40% water so it's very liquidy but pigmented. I find it to be medium but buildable coverage. It instantly brightens my skin, gives a luminous and glowy finish and stays all day. I set with a little finishing powder applied with a fluffy brush and stayed glowy but oil free the whole day. It definitely gives that "lit from within" look on your skin. So pretty and my skin loves it. Usually when I get home the first thing I do is wash my makeup off because it feels gross after being on for a whole day, but not with this foundation. It still manages to feel fresh, even after a whole day of wear.
This feels so comfortable on, not heavy or chemical. It has no real scent and sets nicely on the skin. For a dewy finish foundation I didn't get any transfer and it didn't oxidize at all which Superfit did. I get the same glowy, dewy finish that I loved from Superfit but a much better (LESS ORANGE) color selection and much better pricetag ($12.99). This is hefty for a drugstore foundation but with results like this I will happily repurchase. I feel like this is not only a dupe for Superfit, it's far superior and exactly what I have been looking for in a foundation. I am so happy with this product!
**ETA: Further research into this amazing foundation makes me think this is might be an even closer dupe to Lancome Teint Miracle Foundation. Here's that description...
What it is:
A complexion-enhancing foundation with SPF 15.
What it does:
This oil-free, fragrance-free formula with SPF 15 sunscreen is made with Lancôme's Aura-Inside™ technology, which recreates the true, natural light of perfect skin. Its lightweight texture enriched with soothing rose extract provides 18 hours of hydration and sheer to moderate coverage for a natural finish without a cakey effect. It creates a complexion that looks beautifully bare and lit from within.
What else you need to know:
This foundation is dermatologist tested, non-comedogenic, non-irritating and does not cause break-outs. Suitable for sensitive skin. Contains 37% pure water