As summer is slowly coming to a close (I bought back to school clothes last week you guys. EEK), I felt the fun of my Mermaid Streak was wearing thin and I was getting tired of my cobalt blue little friend.
I thought about doing a different color streak, but decided to just do the entire bottom layer of my hair a deep crimson. It's basically the layers from the ears down, around my whole head. I call it a "red under", I don't know what else to call it. I've done it before and I especially love it when my hair is blonde on top.
I hit up trusty old Sally's and chose Clairol Professional Liquicolor Medium Intense Red Violet 3RRV. The swatch online is very flat and coppery, but the swatch in the store is more true to color. A medium/dark auburn with red shimmer when it hits the light.

photo courtesy of sallybeauty.com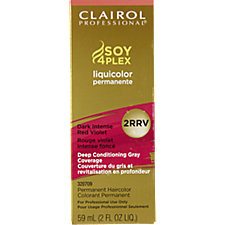 photo courtesy of sallybeauty.com

First, I used a pick comb to seperate my hair. I literally just took it from the top of my ears, all around my head, piled what I wanted to stay blonde on top of my head and went at it. I was told by the assistant at Sally's that this line has a Soy complex that requires that you use the same line of developers. I didn't want any lift, so I purchased a small bottle of the corresponding developer in 20vol.
Mixed in the bowl it is a very vibrant red. It scared me at first because I was afraid it would be ORANGE. I didn't bleach my mermaid streak out. I was impatient so that portion is a tad bit darker than the rest of the underneath, but only noticeable if you REALLY stare at my hair, which...creepy.
With some help from the hubbs, I drenched the entire bottom layer of my hair in this, left it on uncovered and with no head for about 45 minutes and shampoo and conditioned. It turned a beautiful deep crimson, nothing orangey about it. This is over my natural color, a dirty dark blonde. I know the red will fade, but right now it's a beautiful color and gets me in the mood for fall.