Sometimes I get jealous that YouTubers get to do all the fun tags...
I saw EleventhGorgeous do this tag and it looked like so much fun. I wasn't tagged, but I'm totally hopping on the tag train.
The
Colors
Of
the
Rainbow
Tag
!!

photo courtesy of weheartit.com
Red:
Maybelline The Vivids Vivid Rose. I'm sneaking this one in because the color is completely pink, but the PACKAGING is red...so it counts, right?? It is my favorite lip product right now. Feels good on the lips and manages to stay a decent amount of time on the lips. Crazy intensely pigmented without getting milky or chalky. SOO PRETTY!
Orange: Clinique Happy perfume. That sweet little orange writing gets me every time...and the scent actually does make me happy! I don't typically love the color orange, but Happy is the happiest orange thing I own.
Yellow:
Dickinsons Witchhazel Foaming Face Wash. This does not smell good...it smells like dandelions or weeds to me. But... and this is a major BUT...it works amazingly well. It's gentle but effective and has left my skin feeling and looking nicer than it has in months. It doesn't dry my skin at all but has somehow almost reduced my breakouts to non-existent. I've only been able to find it at Walgreens, but it is definitely worth picking up.

photo courtesy of dickinsons.com
Green:
Origins Make A Difference + Rejuvenating Treatment. Kind of more of a teal...but hear me out! This greenish little jar is full of some amazing stuff. I use this at night and in the morning and see such great results with it. It feels luxurious and makes my skin feel supple and happy.

photo courtesy of origins.com
Blue: JulieG "Cabana Boy" nail polish. Oh man, do we have a little crush on this or what? It's been on my nails the last 3 times I've done them. Love love love this $3.99 little bottle of cobalt heaven.
Indigo: WTF is indigo and who owns an indigo beauty product?? I'm going to go with Navy...ok? Neutrogena Nourishing Eyeliner in Twilight Blue. It makes your eyes look whiter and definines your lashes without being super harsh like a black can be.


photo courtesy of neutrogena.com
Violet:
Maybelline "The Falsies" Mascara. Not the flared version, the original version. This mascara replaced CoverGirl's Lash Blast when I got sick of purchasing new tubes that were already dried out. I have repurchased this mascara consistenly every 3 months for about a year and it is definitly great. Perfectly, lenthened, seperated and black black eyelashes that last all day without flaking or smudging. Why haven't you tried this yet??

photo courtesy of maybelline.com
Pink: Beyond The Zone Smooth Criminal Humidity Blocking Hairspray. I have used Tresemme Tres 2 hairspray for about 8 years. I love it. But...Sally's was having thier BTZ products 2 for $12 and I was out of hairspray and thought I'd give this a shot. WOW. It's the finest hairspray. It almost feels like a gentle mist coming out of the bottle but then you see the results and it's suprisingly good. Oregon does get humid and my hair tends to poof when it's humid. This stuff holds my style while still leaving it touchable and moveable. Really impressed with this hairspray.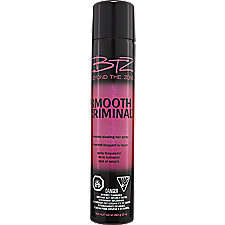 photo courtesy of sallybeauty.com

R
a
i
n
b
o
w
:
I don't really own anything "rainbow" but I do own something with tons of colors that I love. The NYX Every Color Imaginable 78 color palette. This has literally one version of every color I can think of and they are pretty great quality as well.